---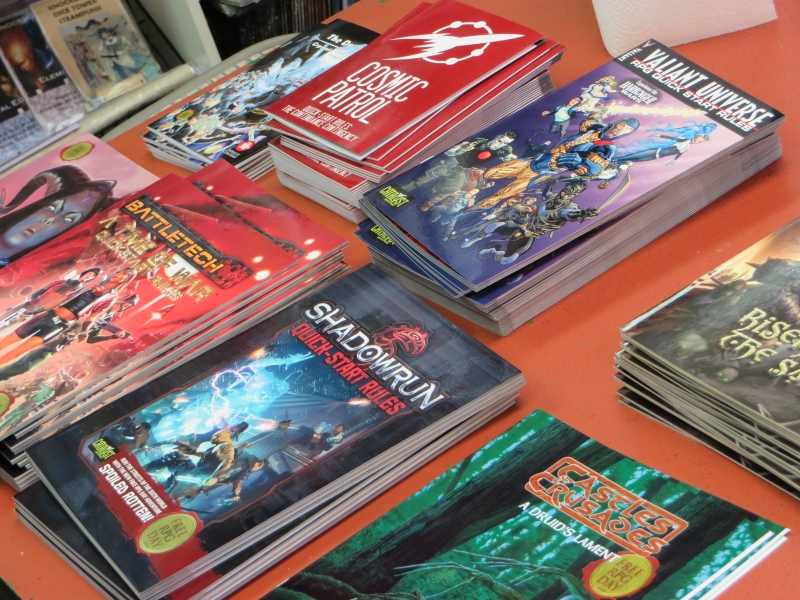 Free Comic Book Day started back in 2002 and has slowly developed into a widely recognized event in the nerd world – on the first Saturday in May anyone can go to their local participating comic shop and pick up a free book or two. Free RPG Day, the comic version's younger brother, is lesser-known but capitalizing on the "free day" concept in attempt to broaden the reach and appeal of role-playing games.
The event was held on Saturday, September 21st (it is not immediately clear whether or not the event is always the third Saturday in June), and Imperial Outpost Games served as the Valley's only host for the Free RPG Day festivities. Imperial Outpost has long been a premier venue for role-playing, card, and wargaming needs, and to help mark the occasion IOG scheduled a number of RPG events with some of the region's best dungeon masters. The doors opened at 10am to a number of waiting customers, and the flow of people steadily continued throughout the morning. Click through for images of the event.
UPDATE: Aldo Ghiozzi, owner of Impressions Game Distribution Services, reached out to me to confirm that Free RPG Day is indeed always the third Saturday of June.
Although Free RPG Day giveaway kits are not exclusive to any particular store by region, a store owner does have to request and purchase a giveaway kit in order to "officially" participate – a store could, of course, host its own giveaways, however the kit contains some pre-made, primer versions of popular game systems that are custom manufactured for Free RPG Day. It's *highly* unlikely that store owners would want to give away full versions of rule systems and retail expansions, although I suppose stranger things have happened. If you are interested in seeing your local gaming store participate, be sure to check with their staff and ask them to order the kits when they become available for next year.
---
← A Love Letter Made Better By Any Other Name